GFWC-MFWC President's Special Project
Darlene C. Adams, President
2014-2016 Administration

Our Theme
The President of the GFWC-MFWC has chosen the theme: "
Bringing Hope – Changing Lives
" for the 2014-2016 Administration.
President's Special Project
The GFWC-MFWC President's Special Project Theme for GFWC-MFWC during the 2014-2016 administration is Let's get WILD to finish the fight!  We will be supporting all forms of cancer eradication and the American Cancer Society.
President's Special Project Logo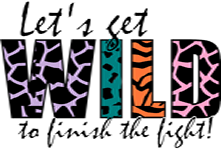 A letter from President Darlene C. Adams on her special project.
Dear Federation Friends,
Three little words can change your life – "you have cancer."
Five little words can break your hope – "get your things in order."
For anyone that has been in the doctor's office, heard those words – what is next? That is where the American Cancer Society comes into play.  Cancer has no age boundary, attacking the young to the old. For over 100 years, the American Cancer Society has been in the forefront, raising monies for research and to provide resources.
Throughout these next two years, I encourage each club to raise funds for the American Cancer Society, the 2014-2016 President's Special Project.  All monies will be designated to stay in Mississippi. One of their projects that MFWC will support is the Hope Lodge, to be built in Jackson, MS. With a $10.9 million price tag, the American Cancer Society has raised $5 million so far. Can a MFWC donation make an impact on such a large amount needed?  You better believe it!  The Hope Lodge will be located on the campus of University Hospital by Lakeland, near our Headquarters.  With 32 guest rooms, patients living at least 90 miles away will be able to stay, free of charge. When a cancer patient is fighting for his or her life, the last think they should be worried about is where they will stay when receiving treatment or how to pay for it.  I personally know how important it is to have a place to go for an extended stay.
There are so many other needs being met for cancer patients through the American Cancer Society.  We will also support those projects in Mississippi.
In the spirit of our President's Special Project campaign, "Let's get WILD to finish the fight!" for that loved one in your family struggling with cancer, or in memory of the one that lost his or her life to this disease. We will bring HOPE, and God willing, we will see CHANGE.
In federation service,

Darlene C. Adams
GFWC-MFWC President
2014-2016