GFWC & GFWC-MFWC Epsilon Sigma Omicron
Epsilon Sigma Omicron (ESO) is an honorary educational society open to all per-capita paying GFWC federated club members. Over 60 years ago, the ESO program became a permanent part of the GFWC Education Department. Through ESO, clubwomen are given direction in planned reading for self-enrichment and personal growth. Many GFWC clubwomen have profited from this unique self-improvement program, seen as vital by the members it directly benefits.
ESO provides clubwomen with a structured reading program that is educational and stimulates a desire for self-improvement. ESO goals include:
Encouraging clubwomen's pursuit of higher education
Creating an additional means to unite women in volunteerism
Developing a support network for women returning to school
Improving current and develop new study skills
Stimulating systematic home reading and study with minimal supervision
Encouraging the establishment of home libraries and greater use of public libraries
Encouraging the formation of reading/study/discussion groups
Members can participate in ESO as part of a reading group or on their own. The program provides membership, awards and certificates, pins, reading lists, and a framework in which to pursue continued self-improvement through reading. Many clubs combine club programming with ESO related activities, such as reading awareness and book promotion.
ESO Resources:
Contact Donna Hutchings, GFWC-MFWC ESO Chairman for more information.
"Reading with the President" Challenge
With ESO being an area of focus for the 2018-2020 Administration, we kicked off 2019 with a "Reading with the President" challenge. I will be doing a "President's Pick" each month allowing members to complete three categories by the end 2019, plus four selections for the Reading to Children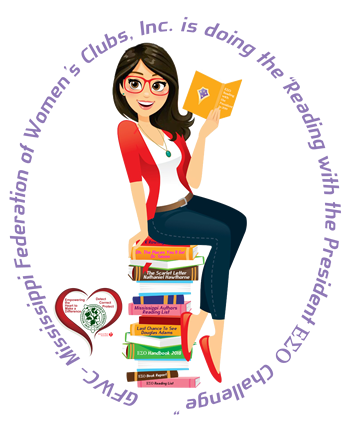 Category for a total of sixteen for the year to earn membership level in ESO. 
Interested GFWC-MFWC members must first pass through the ESO pledge stage before they can become ESO members. The completion of an ESO pledge application is needed before a pledge can begin working towards membership status. The pledge application must be sent to the MFWC ESO chairman—Donna Hutchings, who will begin tracking the pledge's progress. A pledge qualifies for membership at her own pace, finishing in a few weeks or working slowly throughout a longer period of time. After proper completion of 16 books, the pledge receives a certificate verifying her ESO membership.

In addition to the President's Reading Challenge, there are many opportunities for ESO members to work their way up through the ESO levels. Clubwomen move to a new ESO level by completing a set of reading list requirements. The reading list is divided into subject categories. To complete a category, a member must read and report on four (4) books from that category.

ESO Levels
Pledge: A Pledge has obtained an enrollment application and has started to fulfill the reading requirements.
Member: A Member has completed four books from four different categories, for a total of 16 books. She is then eligible to wear the ESO pin and receive a membership certificate.
I believe this will be a great way to encourage and include other members, possibly being an avenue that would entice potential recruits into joining our Federation.

Please consider joining us for this planned reading challenge as part of GFWC's honorary educational society, Epsilon Sigma Omicron (ESO). Always remember that a well-read woman is a dangerous creature

In Federation love,
Becky C. Wright
GFWC-MFWC President
President's Pick
December -
FAY by Larry Brown, Category: Mississippi Authors
November -
Thank You, Omu! by Oge Mora, Category: Reading to Children
Lucy Stone: An Unapologetic Life by Sally G. McMillen, Category: Biography and Memoir
October -
The Angels of Lockhart by Thomas Wiley, Category: Mississippi Authors
Llama, Llama and the Bully Goat by Anna Dewdney, Category: Reading to Children
September -
A Warrior of the People by Joe Starita, Category: Biography and Memoir
August -
The Invention of Wings by Sue Monk Kidd, Category: Fiction, Historical
July -
Grateful American: A Journey from Self to Service by Gary Sinise, Category: Biography and Memoir
June -
The Tattooist of Auschwitz by Heather Morris, Category: Fiction, Historical
May -
Gently Scattered Intentions by Laurie Parker, Category: Mississippi Authors
April -
Cemetery Road by Greg Iles, Category: Mississippi Authors
The Lorax by Dr. Seuss, Category: Reading to Children
March -
Where the Crawdads Sing by Delia Owens, Category: Fiction, Historical
Bartholomew and the Oobleck by Dr. Seuss, Category: Reading to Children
February -
Before We Were Yours by Lisa Wingate, Category: Fiction, Historical
January -
Educated: A Memoir by Tara Westover, Category: Biography and Memoir