GFWC-MFWC President's Special Project
Tammie M. McCoy, RN, PhD
President, 2010-2012
2010-2012 Administration
Our Theme
Our theme for the 2010-2012 administration is
TEAM MFWC: One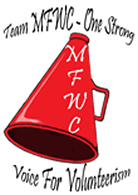 Strong Voice for Volunteerism
. We will be working to assist clubs in name recognition with GFWC and MFWC and we will also be working to build our team with new members and new clubs.
As GFWC-MFWC members, you are vital to the success of our volunteer organization. One voice can make a difference but imagine the voices of 1600 plus members of MFWC and the value of encouraging others to become community volunteers.
President's Special Project
The President's Special Project is Feeding Fellow Mississippians. This project is timely because so many Mississippians are in need of basic necessities, like food, given the current economic climate. Feeding Fellow Mississippians is important across the lifespan from the youngest baby to the oldest adult, food is a basic right.

MFWC members can work at food pantries and soup kitchens, can collect food items at club meetings, and can complete any other project that will assist in meeting the needs of their community.